Combatting the Coronavirus with Solutions
Thousands of new bed spaces are available thanks to dedicated civil engineers from the United States Army Corps of Engineers
By Zack Johnston
In this current moment of national crisis, we each owe a huge debt of gratitude to our healthcare workers and other essential employees working hard to meet the demands of this moment. Dedicated men and women everywhere are putting their health on the line in order to help keep the most vulnerable among us safe. Also deserving of a huge level of appreciation are the first responders with the United States Army Corps of Engineers (USACE).
While the Corps is mostly known for its work in constructing and maintaining infrastructure most often used for military purposes, the agency has risen to the moment to offer a critical level of support to communities ravaged by COVID-19.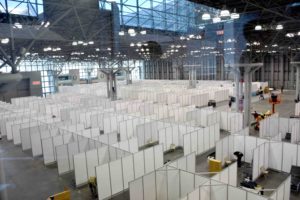 USACE has been operating in direct coordination with the Federal Emergency Management Agency (FEMA) to provide swift engineering services all across the country. The agency is now engaging with all US states and territories to help officials identify, construct, and operate Alternate Care Sites (ACS).
An Alternate Care Site, as defined on the Corps' website, is "a facility that's temporarily converted for healthcare use during a public health emergency to reduce the burden on hospitals and established medical facilities."
USACE looks at four different kinds of locations to be potentially converted into an ACS: hotels, college dormitories, sports arenas, and convention centers. As of press time, the Corps has completed over 1,100 assessments, with even more to go. To carry out this large task, USACE has deployed 1,600 personnel, and is supporting the work of 15,000 more.
The Corps has been selective of which sites to convert, making sure the necessary adaptations could be completed anywhere from five days to two weeks. This decision was made to align the construction time with the state's projected infection peak.
"This is an unbelievably complicated problem, and there is no way we're going to be able to do this with a complicated option – we need something super simple," said Lt. Gen. Todd Semonite, USACE Commanding General, during a press conference.
The simplistic and straight-forward approach the Corps has taken has shown robust progress and has yielded thousands of potential new bed spaces. In fact, the coronavirus page on the USACE website is incredibly thorough and objective with informative and regularly updated information.
The Corps publishes a master spread of all the locations being converted to an ACS, with information on the number of bed spaces, the date of the specific area's projected peak demand, and the site's construction progress.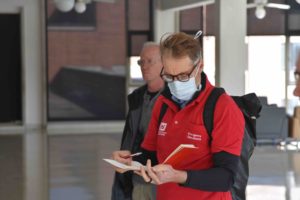 The USACE website also has helpful information on the the coronavirus and what the government is doing, downloadable webinars, specific ACS information, and links to where businesses can get involved in the government's response.
USACE is working directly with state leaders, in concert with FEMA, to quickly identify potential locations, assess them, and proceed with construction upon approval.
To date, the Corps has completed construction on temporary facilities in 12 states and Washington D.C., and is working on more in three other states as well as one in the Virgin Islands.
While the agency is on track to assess and complete many more sites, all of the necessary information has been made public for state and local leaders to take advantage of. In this moment where time is a critical factor, the Corps encourages states and municipalities to utilize these resources and begin work on Alternate Care Sites of their own.
A range of different organizational entities are eligible to establish and operate an ACS under the Public Assistance Program offered by FEMA.
"Eligible applicants may perform or contract for the work directly and seek reimbursement through PA or submit a resource request for Direct Federal Assistance (DFA) to FEMA through the state, tribe (if direct recipient) or territory. Both options are cost shared," according to USACE.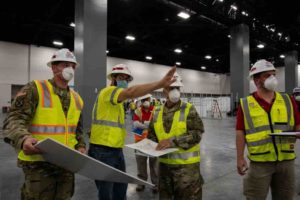 The best potential sites are the ones that already government-owned. If FEMA has not already assigned USACE with issuing the contract and managing the work on a potential ACS, states or municipalities can take it upon themselves to prepare a design and issue a contract for this work.
These facilities need to secure what are known as wraparound services, which cover everything from transportation and ambulance services to providing meals. A checklist is available on the Corps' website.
Lastly, staff, equipment, and supplies must be procured. The facilities must be set up to sustain management of operational contracts and ensure robust supply chain for expendables while the facility is in use.
What the Army Corps of Engineers has done is taken this process and presented it in a simple manner for any and all public officials to utilize and to keep their communities safe. With this type of decisive and robust action and cooperation, we will make it through this crisis with much to show for it.
Zack Johnston is an Assistant Editor for American Infrastructure Magazine. He may be reached at zack@builder.media