Clay County Reclaims its Resources
Facility improvements increase water capacity and quality of life for this Florida community
By Zack Johnston
As a community grows, so must its infrastructure. Naturally over time we anticipate seeing expansions and upgrades to roads, bridges, and highways. However, one can't forget a vital part of any municipal infrastructure system: wastewater treatment.
Without a sufficient treatment facility, a household must rely on an individual septic tank system, which can be costly and difficult to maintain. However, for roughly 2,000 homes in Florida's Clay County, that need will be mitigated thanks to the Mid-Clay Wastewater Treatment Facility.
Owned and operated by the Clay County Utility Authority (CCUA), this treatment plant just underwent a multi-million dollar expansion to vastly increase its wastewater capacity. With the facility up and running, more Clay County residents will have their wastewater treated there and won't have to dig up their own yards for any septic tanks.
"This state-of-the-art facility will be capable of treating wastewater to advanced treatment levels, suitable for public access reuse," said Celeste Goldberg, Chief Customer Officer at CCUA. CCUA services over 125,000 customers in the area, with about 14,000 of those using reclaimed water services.
The plant's design engineer Mittauer & Associates designed the facility's architecture, and contracting was provided by Ortega Industrial Contractors.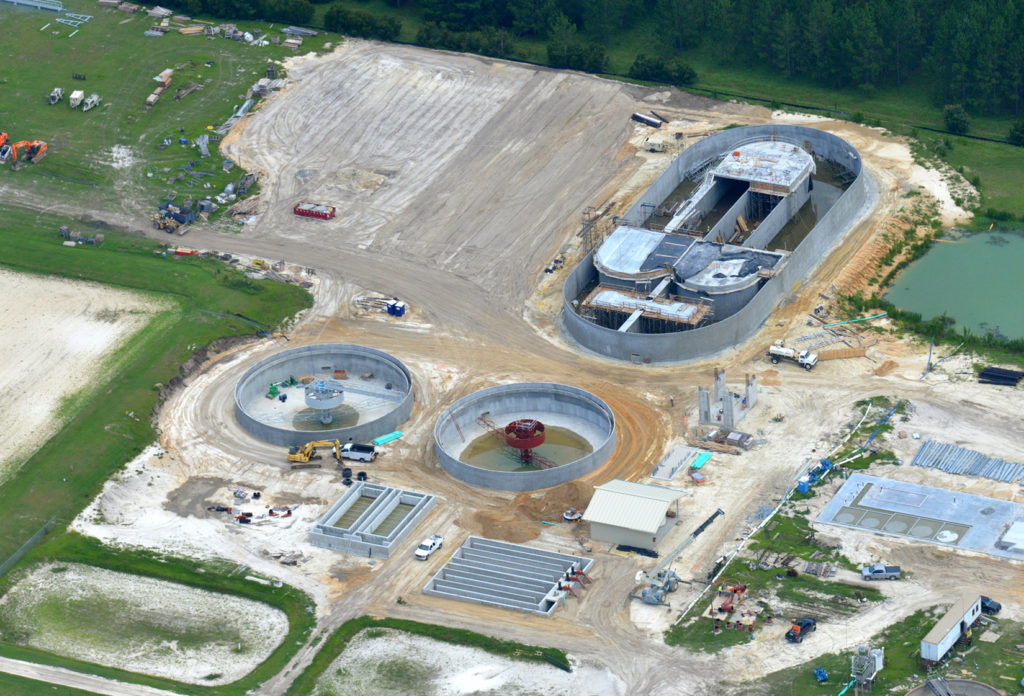 The expansion will allow the facility to serve a larger portion of the county's citizens, and not a moment too soon, as the structure had been mothballed for approximately seven years before construction began July 25, 2017.
"Flow that would normally have been treated through the Mid-Clay facility was treated at CCUA's Ridaught Landing Facility," Goldberg explained.
Ratepayers were saving approximately $300,000 per year in energy and chemical costs during this time. However, the Ridaught Landing Facility, located just a couple miles north of the Mid-Clay treatment plant, will also be benefiting from the new expansions at its neighbor facility.
The two facilities were connected several years ago through a series of extensions made to the reclaimed water main and sanitary sewer force main. With the construction at the Mid-Clay facility wrapping up last May, it can now relieve the Ridaught Landing facility of some of that wastewater flow, which will increase the service life and energy efficiency at both structures.
"Both facilities' service levels will be enhanced as development continues to expand in the Ridaught and Mid-Clay service areas," Goldberg stated.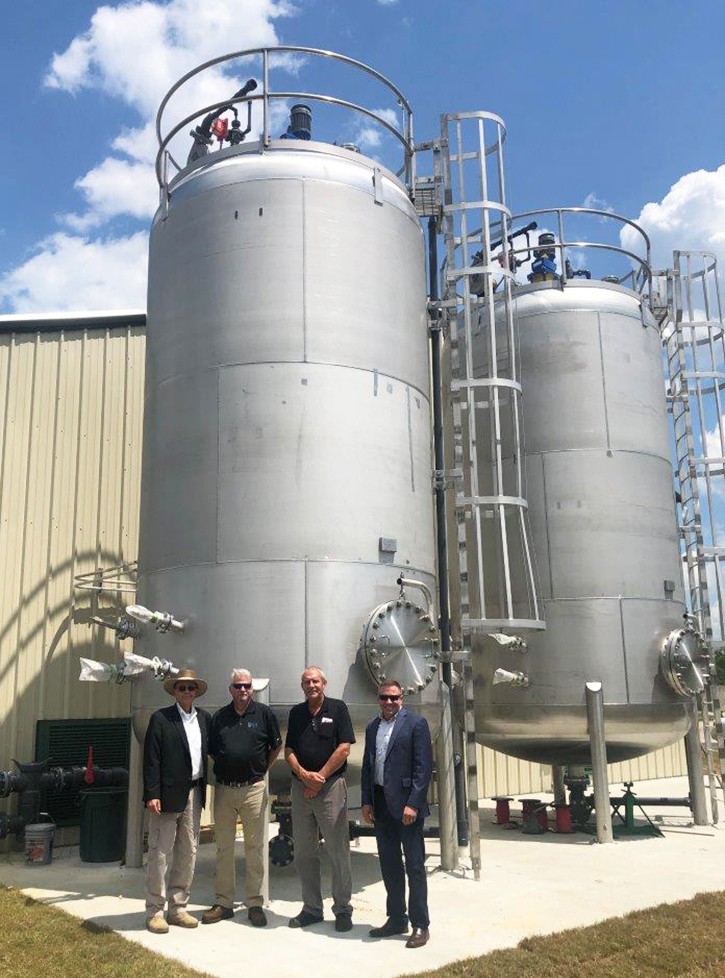 Mid-Clay will also decrease energy consumption costs by approximately 33 percent with the construction of the biosolids processing facility.
The scope of processes the Mid-Clay facility can perform include, "screening, grit removal, biological treatment with nutrient removal, filtration and disinfection," according to Goldberg.
The structure of the facility includes an influent chamber to receive the untreated wastewater, and a large chlorine contact chamber, which allows for the water to be sufficiently disinfected. These two structures both had a high potential for chemical corrosion, and the influential structure's elevation made even small cracks readily apparent. Special attention went toward the chemical protection and waterproofing of these structures.
Wastewater that gets treated at the facility will go on to be used for irrigation in residential neighborhoods, or it will be diverted into on-site rapid infiltration basins.
"Both methods of reuse are beneficial to the environment as they do not involve discharge to surface waters and they will ultimately recharge the aquifer," Goldberg said.
The reuse of treated wastewater allows for a far more efficient and less wasteful water supply system, as the reuse leaves more for a clean drinking water supply.
Greater capacity is always the name of the game with wastewater treatments plants, and the team responsible for Mid-Clay certainly hit a homerun with this project. With the completion of this construction phase, the Mid-Clay facility's capacity has been more than doubled, from 650,000 gallons per day to 1.5 million gallons per day.
CCUA isn't finished just yet. Bidding has officially opened up to contractors for a second construction phase, which will add another biologic treatment unit and clarifier for waste removal. This addition will again increase the capacity of the total facility to a whopping 3 million gallons per day.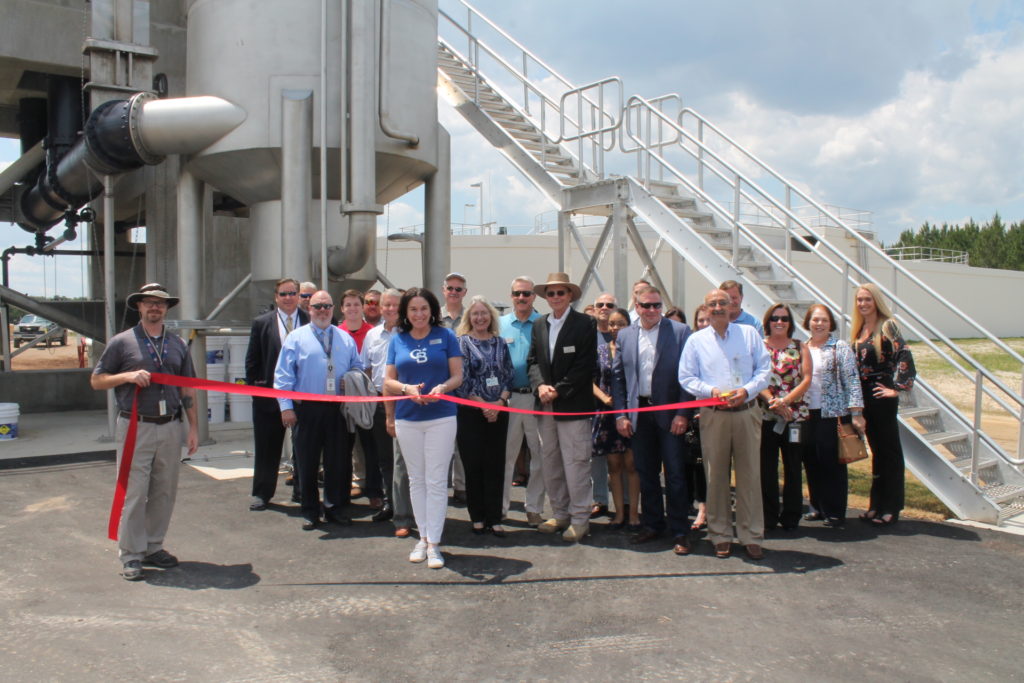 Construction for the completed expansion totaled about $13.3 million, and was secured from the State Revolving Fund. "An additional $5.7 million was funded by CCUA's capital projects budget for our advanced and environmentally beneficial biosolids processing facility," Golberg added.
Estimates for the project's next phase range between $8-9 million.
The team did run into one slow moving obstacle during construction. Gopher tortoises were located on the facility property, which were eventually removed and relocated as per wild-life regulation in the State of Florida.
All in all, the Mid-Clay Wastewater Treatment Facility checks the boxes for what makes an excellent infrastructure project; it benefits the natural environment, it improves the area's resource consumption, and it improves the quality of life for residents.
Zack Johnston is an Assistant Editor for American Infrastructure Magazine. He can be reached at zack@penpubinc.com