ASCE's Support of the Biden Administration's Infrastructure Bill
ASCE's Tom Smith discusses the bipartisan infrastructure package.
By Thomas W. Smith
Americans continue to contend with challenges associated with the COVID-19 pandemic as the country advances slowly along the path of recovery in 2021. 
Supply chain disruptions have abounded, while the user fees that support basic infrastructure, such as transit fare and fuel tax revenue, gradually continued to climb back to levels that resemble pre-pandemic America. 
Congress passed significant legislation this year to support infrastructure, building on measures that were approved at the end of 2020, such as the massive spending package that included $45 billion in relief for the transportation sector and a bipartisan energy bill aiming to reduce emissions. 
From the American Society of Civil Engineers' (ASCE) perspective, the most substantial legislative achievement of the year occurred near the end of 2021. At nearly midnight on November 5th, the House passed a bill that would dedicate $1.2 trillion to various infrastructure elements, including roads, bridges, rail, power grids, water systems, and dams. 
Known as the Infrastructure Investment and Jobs Act (IIJA), the House passed the Senate-approved bill by a vote of 228-206 after Democrats reached an agreement on a separate budget reconciliation package. The measure will mean long overdue relief for communities who can't rely on weak power grids, dilapidated bridges, and leaky pipes. 
Although the IIJA is a once-in-a-generation investment, representing decades of advocacy work by ASCE members and many other stakeholders, it wasn't the only piece of legislation that was passed this year in order to bolster infrastructure systems. There were several others that flew somewhat under the radar during a tumultuous time in history. 
"As the U.S. continues recovering from the pandemic, investing in infrastructure will fuel our continued rebound by putting people to work, relieving transportation agencies, and generating economic activity."
Marking a positive start to 2021, the Safeguarding Tomorrow through Ongoing Risk Mitigation (STORM) Act became law on January 1st. The legislation established a revolving loan fund for eligible projects meant to protect against wildfires, earthquakes, flooding, and chemical incidents.
After a new administration took the helm and a new Congress gaveled into session, Senators introduced the Endless Frontier Act, which represents a substantial investment in research and development. Specifically, the bill would establish a new Directorate for Technology and Innovation at the National Science Foundation and authorize $100 billion over five years for this initiative. 
ASCE continues to work with members of the Senate and House of Representatives to ensure the final version of the bill includes a commitment to applied and basic research and the inclusion of engineering as a key part of those research efforts. 
In early March, ASCE released its comprehensive 2021 Report Card for America's Infrastructure, which frequently functions as a reference tool for elected officials who serve at various levels of government and represent both sides of the political aisle. America's infrastructure earned a C- on the quadrennial assessment, which marks an improvement from the D+ recorded in 2017. 
About a week after the report card's release, the nation's infrastructure received a boost when President Joe Biden signed the American Rescue Plan, a $1.9-trillion COVID-19 relief package. The legislation included $30.5 billion for transit systems, $8 billion for airports, and $1.7 billion for Amtrak. 
The global pandemic was one of many challenges 2021 presented us. This year also included a spate of natural disasters, each of which served as serious reminders of the importance of building out infrastructure to withstand extreme events. These disasters ranged from Hurricane Ida, which slammed Louisiana and flooded parts of the Northeast; to the winter storm that left millions without power in Texas; to wildfires that scorched parts of California, Oregon, and Washington. In fact, as of October 8th, the United States has endured this year 18 separate billion-dollar weather and climate disasters. 
Federal leaders took action to encourage communities to prepare for extreme events. In May, the Biden administration authorized the Federal Emergency Management Agency (FEMA) to double the funding available in fiscal year 2021 for the Building Resilient Infrastructure and Communities (BRIC) program to $1 billion. Through the program, grant funding is issued to assist cities and states with preparing for extreme weather. ASCE continues to support developing resilient solutions to the climate-related challenges facing the nation's critical infrastructure. 
Despite the modest increase in the overall grade reflected on the 2021 Infrastructure Report Card, there is still plenty of room for improvement. ASCE recommends leaders at the federal, state, and local levels invest in infrastructure, and we recognize the IIJA will play an important role in closing the investment gap. 
According to Moody's, the new $1.2 trillion federal Infrastructure package will create more in economic activity than it would cost, adding $1.4 trillion to the economy over an eight-year period.  In terms of jobs, the bill will create 883,600 jobs by 2030–many middle-class jobs. Private-sector productivity would also get a boost from the infrastructure investment.
As the U.S. continues recovering from the pandemic, investing in infrastructure will fuel our continued rebound by putting people to work, relieving transportation agencies, and generating economic activity.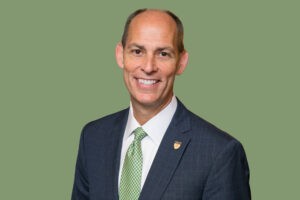 Thomas W. Smith is the Executive Director American Society of Civil Engineers.A dedicated member of ASCE for more than 25 years and a civil engineer by training, Smith served as the association's deputy executive director and general counsel before becoming the executive director and secretary in January 2015. Smith also serves as a director on the board of the ASCE Foundation.