The AI Interview: Scott D. Grayson, CAE, Chief Executive Officer, APWA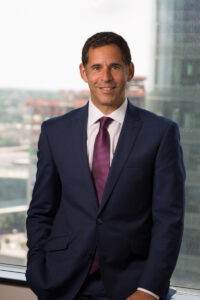 APWA CEO addresses infrastructure needs in the U.S.
American Infrastructure: Tell me about APWA and its philosophy. 
Scott Grayson: APWA's vision statement is "Advancing the quality of life for all." Our staff and members take that very seriously. APWA's staff remain incredibly engaged, and motivated to deliver a great experience because they know by providing technical education, professional development, leadership training as well as advocating on their behalf, they are helping our members advance the quality of life of all residents who live in communities throughout the world. 
AI: Does APWA have any sustainable practices?
SG: APWA's Center for Sustainability (C4S) delivers resources, education, advocacy, and member engagement for public works professionals to implement environmentally, economically, and socially responsible projects and services. Resources developed for public works professionals include: APWA's Principles of Sustainability, a Framework for Sustainable Communities, "Creating and Growing Sustainable Communities" Course Materials, and a Social Equity Toolbox. C4S also recently worked with APWA's Government Affairs Committee to develop a Policymaker Primer on Climate.
Each year, in addition to considering sustainability criteria for many APWA awards, APWA recognizes exceptional performance in sustainability to an individual, team or organization with the Exceptional Performance in Sustainability Award.
APWA was also a founding partner of the Institute for Sustainable Infrastructure (ISI), which developed Envision, a tool for rating the sustainability of infrastructure projects. C4S is currently collaborating with ISI on an Envision Implementation Guide (Envision Playbook) to assist project teams, particularly in the public sector, in realizing sustainable infrastructure projects.
Additionally, APWA does a number of things at our conferences to reduce our environmental impact as well as offer education programming around sustainability. 
Donate unserved food to a local charity. 

We have replaced printed materials with digital options. 

Guidelines are provided to APWA exhibitors to reduce their impact while participating in APWA conferences. 

Bottled water is only used for speakers and AV production tables. Water coolers are provided so attendees can refill personal water bottles.

Biodegradable serving supplies are used as much as possible. 

Biodegradable badge holders are used, which we also recycle. 

Facilities must have recycling stations/services. 

Participation in Community Service Projects: We provide attendees with volunteer, donation, or charity giving opportunities.

Conference site selection criteria includes a sustainability evaluation.
AI: As CEO for both APWA and CPWA, what are some differences you see between the two?
SG: We do not treat members in Canada and the U.S. differently. The beauty of our public works community is that our members who are first responders all share similar challenges and help each other solve problems. For example, currently all public works departments, whether in Canada or the U.S., are confronted with workforce and supply chain shortages. Many public works departments both in Canada and the U.S. have been asked to attend to the needs of the homeless populations, respond to COVID-19 issues, civil unrest, and natural disasters. Both countries are facing more frequent and more devastating natural disasters, including flooding, wildfires, hurricanes, and tornadoes, which require enhanced resiliency plans. They are also experiencing an increase in cyber threats.

The one difference is in our advocacy work. The APWA Board approves U.S. policy statements and the CPWA Board approves Canadian policy statements. For both Canada and the U.S., we serve as the "Voice" of public works to government officials and the media. Both APWA and CPWA continue to serve as a trusted resource to both governments to bring real-life stories of how infrastructure is designed, built, and maintained. Both APWA and CPWA ensure that we provide constructive input to the Canadian Parliament and Canada's departments as well as the U.S. Congress and federal agencies to ensure that both countries develop the best public policy when it comes to public works and infrastructure.
 AI: What areas of infrastructure are the most important to focus on right now?
SG: APWA has three public policy priorities: surface transportation reauthorization, water resiliency, and emergency management. For years, APWA and our 30,000 members have been pushing Congress to provide a more stable, long-term revenue source, such as a vehicle miles traveled mechanism, to fix the insolvency of the Highway Trust Fund and advocate for the federal motor fuel tax to be increased and indexed to inflation. APWA is also working to get water and wastewater regulations updated to better preserve and protect people, property, and the environment. And, in emergency management, we think it is important we develop measures that minimize or eliminate the impact of disasters and improve the overall resiliency of our infrastructure.
You can find our APWA public policy priorities for the 117th Congress at APWA.net under the "Government Affairs" tab.
AI: What projects does APWA have in the works?
SG: We will be turning 85 in 2022. We continuously look at where we want to be in five years, ten years, and beyond. Some associations concern themselves with how many members they have. We concern ourselves with providing the best quality experiences, education, and resources to as many people as possible. We believe if we provide quality products and/or experiences, our membership will grow. But for me it is not necessarily about membership growth. It is about being proud of who we are and what APWA has to offer. I want 60,000 people or 100,000 people from around the world to benefit from all that APWA has to offer. 

To that end, the APWA Board, through its strategic plan, has a new emphasis on participating internationally. Just in the last few months, we have signed seven Memorandum of Understanding Agreements with similar organizations throughout the world. We know that we can learn from other countries and vice versa. We are excited to collaborate and expand our knowledge base in the area of public works and infrastructure. APWA has created a Big Cities/Counties Forum both in the U.S. and Canada. This forum allows public works directors from cities/counties with populations of over 500,000 to ask questions, learn best practices from others, and plan for the future. During this coming year, we plan to establish a Big Cities/Counties Global Forum and will begin to discuss the U.N.'s Sustainable Development Goals to potentially include: 1) clean water and sanitation, 2) sustainable cities and communities, and 3) climate action. 
"We continuously look at where we want to be in five years, ten years, and beyond."
AI: Based on the vote, how will APWA be affected by the infrastructure bill? 
SG: APWA supports the Senate-passed Infrastructure Investment and Jobs Act (IIJA) as it is bipartisan and aligns well with our public policy priorities for surface transportation reauthorization, water resiliency, and emergency management, including:
A five-year authorization of surface transportation programs

Streamlining duplicative permitting processes

Strengthening overall infrastructure resiliency to include protection against natural disasters and cyberattacks, and

Investing to upgrade water and wastewater systems while protecting them from dangerous emerging contaminants.
Recently, President Biden signed an extension of the current Surface Transportation law, the Fixing America's Surface Transportation (FAST) Act through Oct. 31. It is critical to our economy and to our nation for all types of transportation-related projects and programs to continue without interruption and that a new law is enacted immediately that provides for at least five years of authorization and funding. Doing so will assist our public works professionals in continuing building on the success of previous surface transportation laws. 
AI: Has COVID-19 impacted the functions of APWA? What are some safety protocols being instilled within the community?
SG: Like all associations, we were concerned for our staff and members' safety and health. That was our first priority. As a result, even in states that permitted gatherings, we decided to postpone almost all in-person conferences, workshops, and meetings until we thought the risk had diminished. APWA cancelled two North American Snow Conferences and one PWX that was to be held August 2020 in New Orleans. During that time, we moved all of our education, workshops, and exhibits to virtual platforms. Instead of holding four-day virtual conferences, we decided to focus on public works and infrastructure themes each month. This turned out to be something our members and now new members wanted. At the end of August, we held PWX in person with over 3,500 people. Since it was held in the city of St. Louis, all attendees were masked while indoors. I am pleased to report that there was not one COVID-19 case reported at the time of the event.
During the pandemic, we were no longer able to perform our advocacy efforts in person. We moved all of our Capitol Hill and federal agency meetings online and held eight virtual Capitol Hill briefings. This allowed members from all over the world to tune in to these briefings which previously had not been accessible to them. Our staff became very entrepreneurial out of necessity. We learned a lot in this past year and a half and implemented new and enhanced business practices. We will keep the good ones and get rid of the things that we realized we didn't really need to do. We have all learned a lot, and I think this experience has brought the APWA family closer together.