2022 Trends: Integrating Technology with Human-Driven Processes
Technology integration will make our nation's infrastructure more efficient and effective.
By Brian Kozy
Roadways are essential to connecting people and delivering goods and services across the United States. Currently there are 617,000 bridges which serve a critical linking function to cross waterways, obstacles and other intersected features in our roadway network from coast-to-coast. 
With the nation's infrastructure system aging, nearly 231,000 of U.S. bridges need major repair work or replacement, according to an American Road & Transportation Builders Association (ARTBA) analysis of the U.S. Department of Transportation's 2019 National Bridge Inventory (NBI) database, and all of these structures need to be kept safe and operational. 
"Artificial intelligence is only as good as its programmer that instructs it or the engineer that uses it. Technology needs to extend rather than replace the human aspects of engineering."
As engineers get to work on the enormous task of replacing, rehabilitating and preserving these bridges, the effective use of technology is more important than ever. We have many new tools and technologies which are advancing faster than they can be integrated and adopted in the industry at large. This creates many opportunities, as well as challenges. 
Our industry needs technology integration that not only makes current processes more efficient and automated, but can serve as an extension of human-driven thinking and actions. Fundamentally, engineering is about solving problems and making decisions and this can never be fully given over to a computer to perform. Artificial intelligence is only as good as its programmer that instructs it or the engineer that uses it. Technology needs to extend rather than replace the human aspects of engineering.  
Here are just a few examples where this is relevant:
BIM-Based Design Software 
Design software using Building Information Modeling (BIM) advances the design process by allowing us to design in much greater detail (three dimensions) and visualize a completed structure and all its components well before construction begins. Because this information is stored electronically, owners, designers and contractors all have easy access to design details and collaboration is easier than ever for projects. 
The efficiency also allows us to consider alternatives that might contribute to minimizing cost or achieving a longer service life, or other special criteria such as risk or resilience. For operations, BIM-based software can store a full network of assets and associated maintenance requirements in one database and allow us to better anticipate the future performance and plan for optimal management actions. 
While BIM-based software is a powerful tool with clear benefits, this technology requires new ways of thinking and new workflows to best use the software for finding solutions and making decisions. The engineering workforce today is a mix of those who came up in a time when drafting paper and pencils were the norm for design projects and those that have spent their entire lives in the digital age. 
As in any field, change can take time and may be met with skepticism or even resistance. Design firms will need to adapt and redefine their approaches to spend more time on other efforts that add value for the owners. The time saved by automating calculations and specification compliance checks with software must be used to consider more factors and find better solutions.  
Structural Health Monitoring 
Bridges are subjected to stress from environmental loads including extreme temperatures, freeze/thaw cycles, and chloride penetration, all of which can expedite the deterioration process. This process can also be hastened by increased physical loads due to growth, overloading and dynamic impact of heavy trucks. 
The introduction of the Internet of Things (IoT) has provided us with the opportunity for real-time monitoring of these changes in structural condition and performance through structural health monitoring. Structural health monitoring systems typically are composed of a sensor network and data processing system. The benefits of such a system are plentiful – proactive monitoring of structural performance, extension of service life due to early detection of developing failures, reduction of unnecessary maintenance and life-cycle costs and optimization of inspections and preservation actions. 
However, structural health monitoring presents a challenge because these systems are collecting massive amounts of data, more than we have ever had access to previously. We cannot rely on the data alone to make informed decisions – this is why the human factor is so critical. In our analysis of the data, we must perform data filtering, make meaningful interpretations, and create a health evaluation system to aid in decision-making. The ultimate goal is to alert owners of any meaningful change in the current state of the structure, but with the vast amount of data available and the constant evolution of technologies available, having experts to interpret data and advise accordingly will only become more critical.   
Inspection Technology
Unmanned aerial systems (UAS) – or drones – have become increasingly more prevalent in the engineering and construction industry as they present new opportunities to capture images and data in difficult-to-access areas. The growing use of UAS in performing bridge inspections have helped minimize risks, improve safety, reduce costs and provide better data – all of which lead to better asset management. Because this emerging area is so new, there is currently a lack of standardization as to how UAS are to be used in bridge inspection, a critical application in the widespread adoption of this tool. 
To assist in the standardization process, Michael Baker International currently is working on an ongoing research project with the National Cooperative Highway Research Program (NCHRP) to develop AASHTO guidelines for the use of UAS for bridge inspection. 
These guidelines will be presented to AASHTO for their adoption and that will become the state of practice and standard of care for such inspections. With technology and the industry developments happening at a very rapid pace, it is important to bring a practical, implementable and meaningful approach to real-world applications for maintaining safety and serviceability of bridges – an approach that can only be successfully identified and carried out by the human element.
Today's technology has undeniable benefits in terms of efficiency, but we must not consider it as a replacement to sound, human-driven problem solving and decision making. Only by integrating the use of technology with the insight and guidance of our engineers can we realize the maximum potential. If we do this right, owners and taxpayers will gain the full benefits from the technology implementation.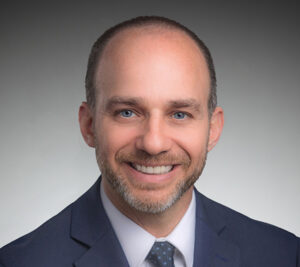 Brian Kozy is the Senior Vice President and National Practice Lead, Bridge at Michael Baker International.