I-11 First Phase-Southern Nevada
The long anticipated stretch of Interstate 11 in Southern Nevada made its debut this year, transforming transportation and improving efficiency
By Abby Pittman
A long-awaited stretch of the new Interstate 11 recently made its debut in Southern Nevada. The I-11 will connect Las Vegas and Phoenix, the country's two largest metropolitan communities currently not linked by an interstate highway while improving motorist safety and convenience and reducing travel time by at least 30 minutes as it offers higher travel speeds without signal lights. It also marks the first new infrastructure to the Interstate Highway System since being deemed complete in 1992.
The Nevada Department of Transportation (NDOT), along with the Regional Transportation Commission of Southern Nevada (RTC), broke ground on the $318 million, 15-mile first segment of I-11 in April 2015, marking a critical first step towards fast-tracking the 300-mile trip to Phoenix. The four-lane freeway travels from the southern edge of Henderson to the Hoover Dam Bridge, bypassing stop-and-go traffic through downtown Boulder City.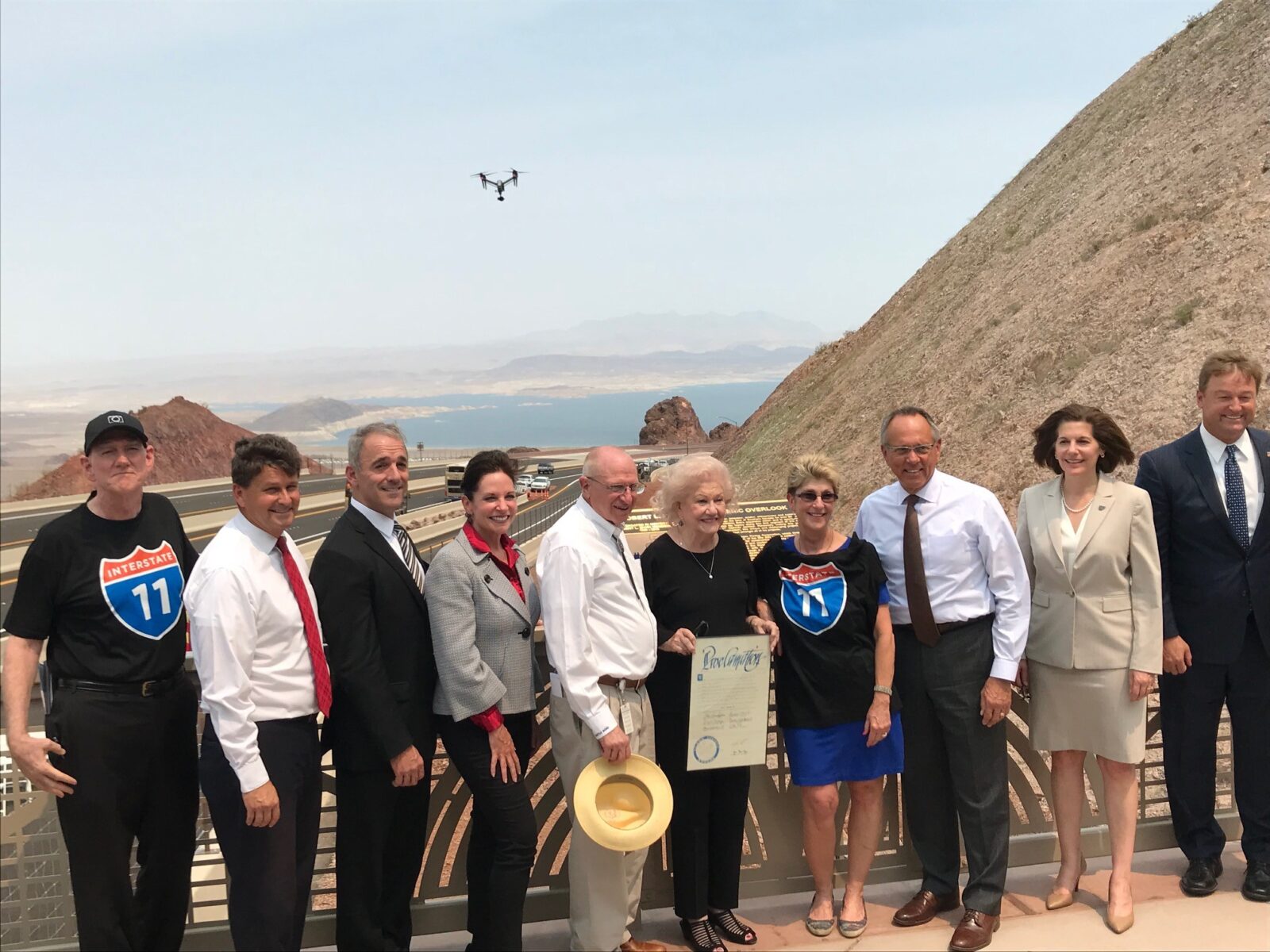 The current stretch of U.S. Highway 93 averages 34,000 vehicles daily with heavy truck traffic and is expected to grow thanks to the CANAMEX Corridor and North American Free Trade Agreement (NAFTA). The I-11 will play an integral role in serving the region, which is expected to add 32 million residents between now and 2030.
NDOT built the first $83 million section between Silverline Road and Foothill Drive in Henderson, with Fisher Sand & Gravel as the general contractor. The 2.5-mile stretch of the new interstate opened in phases from August 2017 through May 2018. The project added a full diamond interchange at Railroad Pass with a loop ramp, plus a 600-ft flyover bridge from the southbound I-11 to the eastbound U.S. Highway 93. Additional components consisted of replanting 20,000 cacti, placing decorative rock, and installing five miles of tortoise fencing.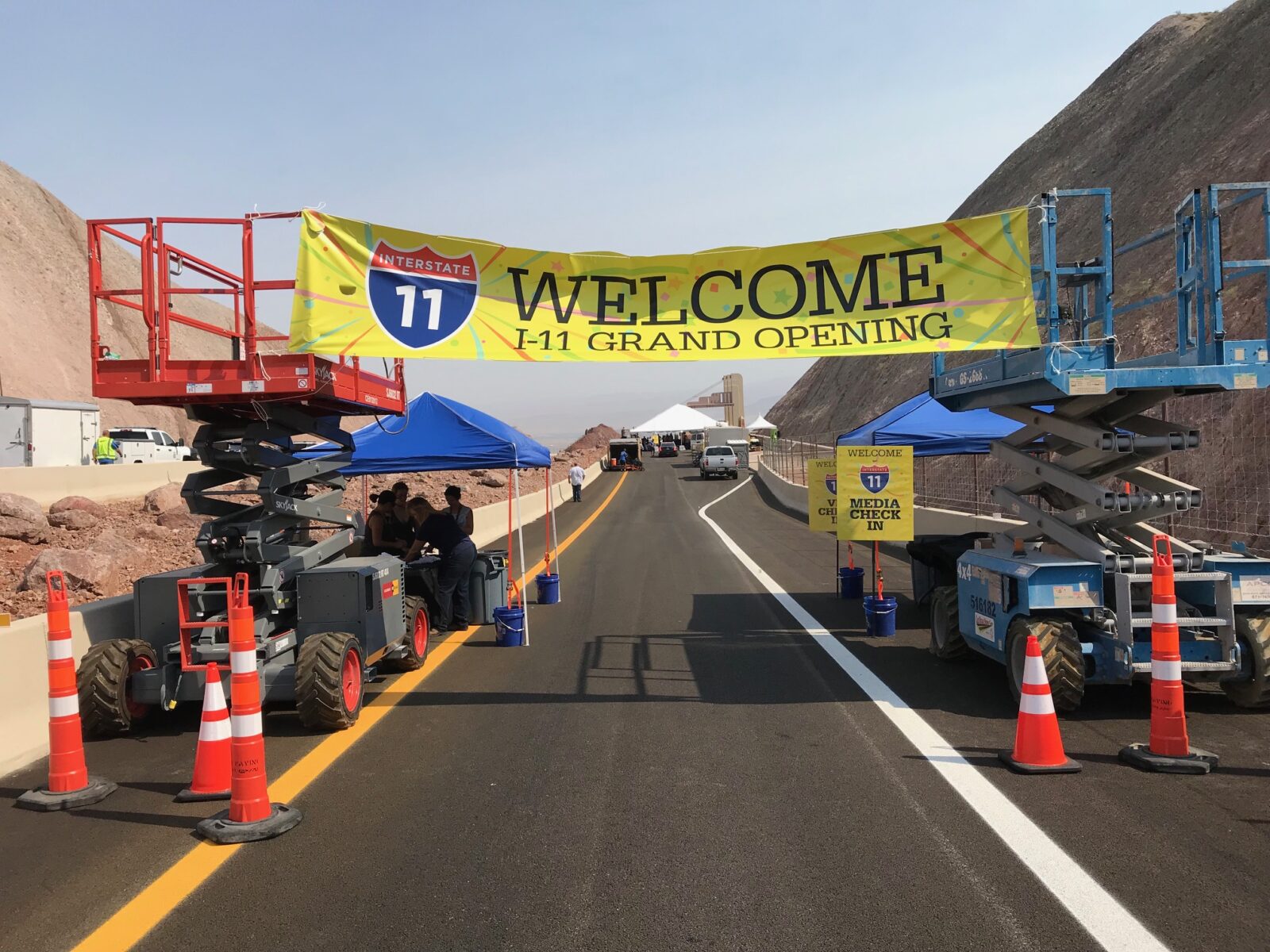 NDOT awarded the construction contract based on best value using a life-cycle equivalency factor. This resulted in the choice to use concrete rather than asphalt paving, despite a $3 million price difference.
"We opted to use concrete pavement due to its longevity, which federally funded studies show costs 13 percent to 28 percent less in the long run than asphalt," said NDOT spokesman Tony Illia. "It also reduces rutting and potholes, thereby cutting maintenance expenses by up to 75 percent."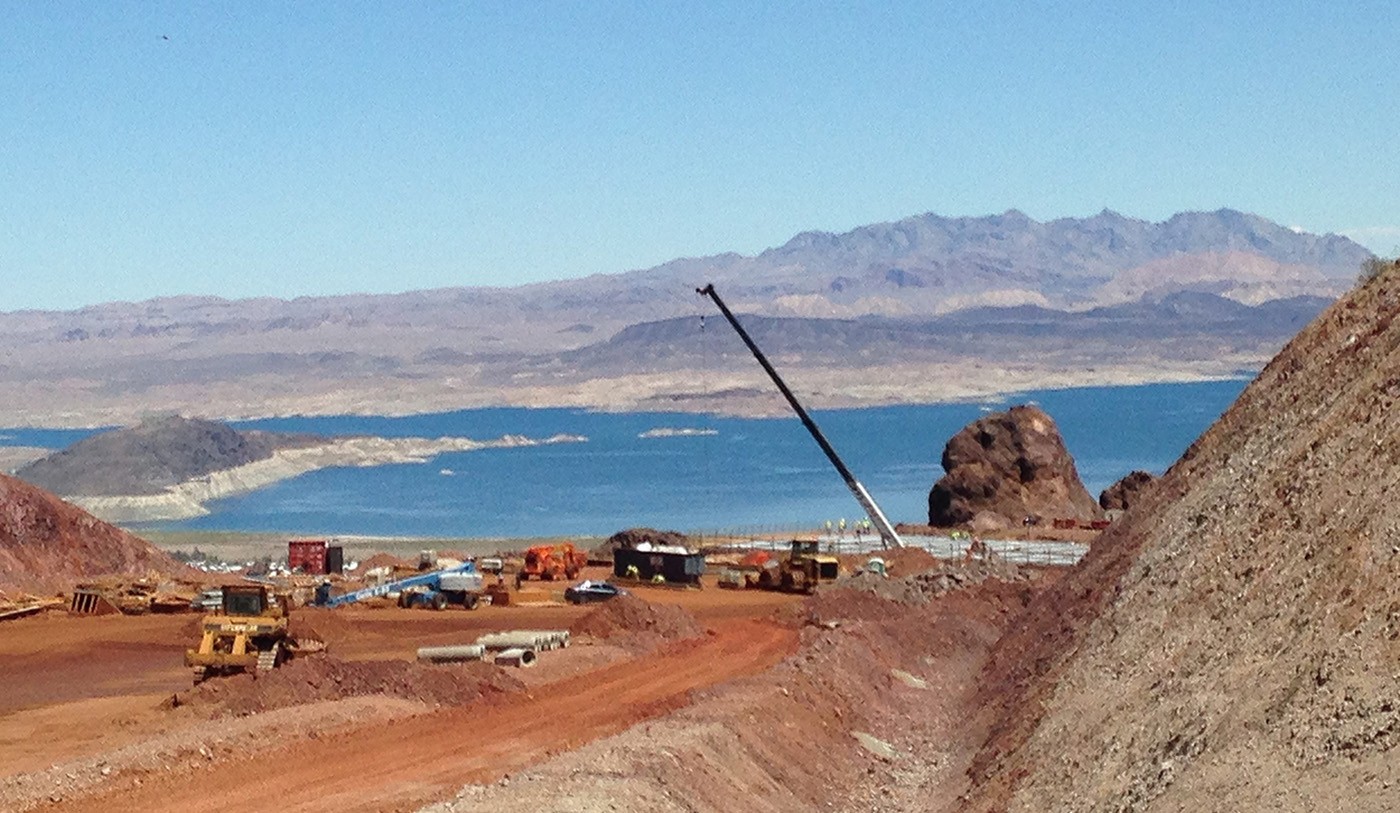 The project's visual centerpiece is a 1,200-foot-long, 28-foot-tall concrete retaining wall, which illustrates scenes from the construction of the Hoover Dam with extruded steel figures and objects, reflecting the region's social, cultural, and economic history and acting as an iconic graphic gateway to Boulder City.
Phase One also reconnected the railroad tracks previously severed by U.S. Highway 93 by adding a new 360-foot-long bridge that allows the mainline freeway to pass underneath. Previously, the Union Pacific Railroad had an at-grade crossing over U.S. Highway 93, traversing the 2,367 ft. Railroad Pass, connecting Henderson with Boulder City. It was paved over in 1998 due to its sharp 64˙ angle, high highway speeds and scarce usage. Its historical significance and future potential still merited preservation thus the initial phase of the project restores the rail line link to potentially reach Boulder City again via Railroad Pass. A steel prefabricated pedestrian bridge is also being erected to connect the River Mountains Loop and Henderson trail systems.
RTC built the $235 million, access-controlled second freeway section from Railroad Pass to the O'Callaghan–Tillman Memorial Bridge. Las Vegas Paving was the design-build general contractor, with CA Group as the lead engineer. The RTC negotiated with the Western Area Power Administration and Colorado River Commission to relocate electrical transmission facilities along the freeway alignment route. They were eventually moved in 2015, clearing the path for construction.
Work entailed placing 350,000 tons of asphalt and moving 6.5 million cubic yards of earth, including tricky drill and blasting excavation done in 30-foot increments to create benches and shelves through a ridge in the El Dorado Mountains. This was done with the explosives placed so that there were "no teeth marks in the rock," said Las Vegas Paving project engineer Steven Ireland. There were eight rock cuts, with the deepest measuring 1,000ft across and 250ft down. Blasting took place almost daily for more than a year and a half, with construction crews working double shifts, night and day, to complete the work.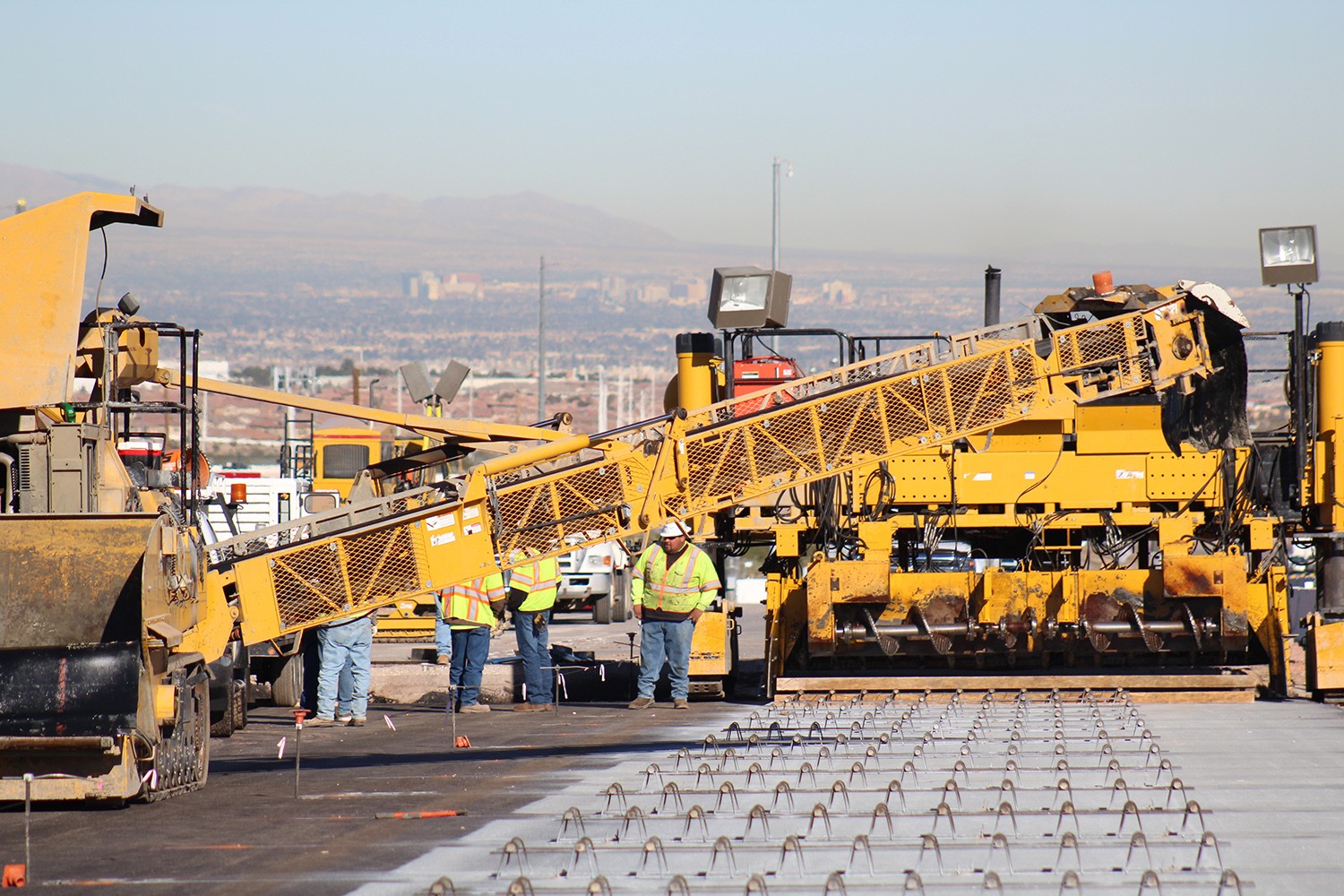 "We literally moved mountains," said Las Vegas Paving Project Manager Jared Wagstaff.
"I-11 is critical to the continued economic vitality of Nevada," said Nevada Governor Brian Sandoval. "By improving traffic flow between Las Vegas and Phoenix, and providing relief to congested north-south highways like I-5 and I-15, the new I-11 will spur increased trade and commerce, advancing our economic development initiatives and ensuring we remain globally competitive."
The second phase will feature a northbound truck climbing lane, a reconfigured interchange at the U.S. Highway 93/State Route172 Hoover Dam exit, and a southbound scenic vista parking area with a cantilevered metal shade canopy and informational kiosks overlooking Lake Mead. There will also be ten freeway bridge structures, including "four massive steel girder structures that span canyons that are 100 feet or deeper," according to Wagstaff. Several bridges span canyons with the largest structure spanning 280 feet.
There are two all-terrain vehicle crossings created by installing box culverts under the interstate, along with five concrete wildlife crossings up to 60ft in width for horses and bighorn sheep with 8-foot-tall perimeter fencing to help reduce potentially fatal injuries from vehicle-animal collisions. The bridges, scenic overlook, and other project components incorporate Art Deco architectural flourishes, referencing the nearby historic Hoover Dam and its importance to neighboring Boulder City.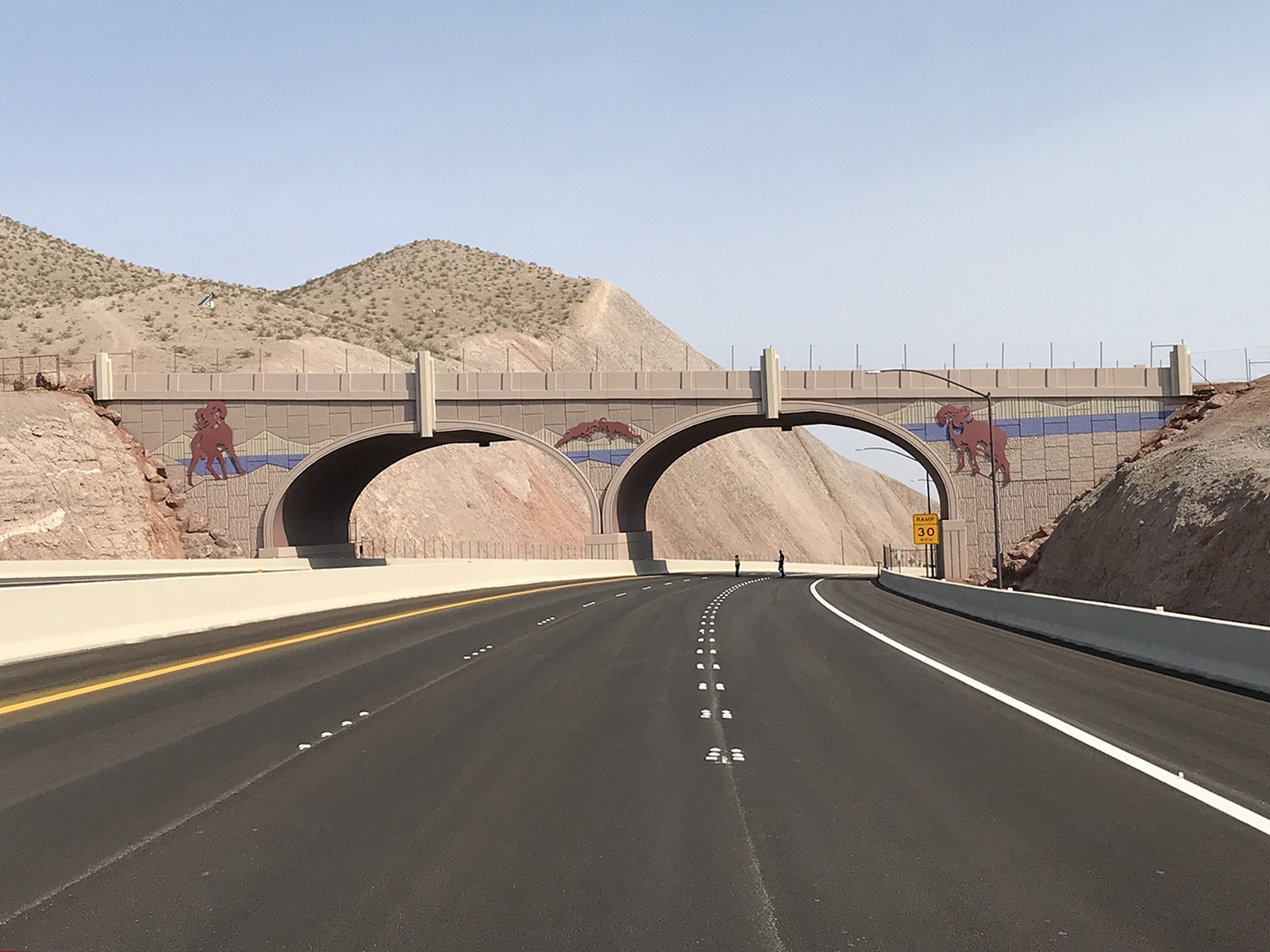 Project funding relied on FHWA's Advance Construction program, giving the NDOT the option to be reimbursed up to $291 million (nearly 92 percent of project-related costs) from its future federal highway funding apportionments. Work is also being funded by $22 million in Fuel Revenue Indexing funds from Clark County, along with $5 million in state monies.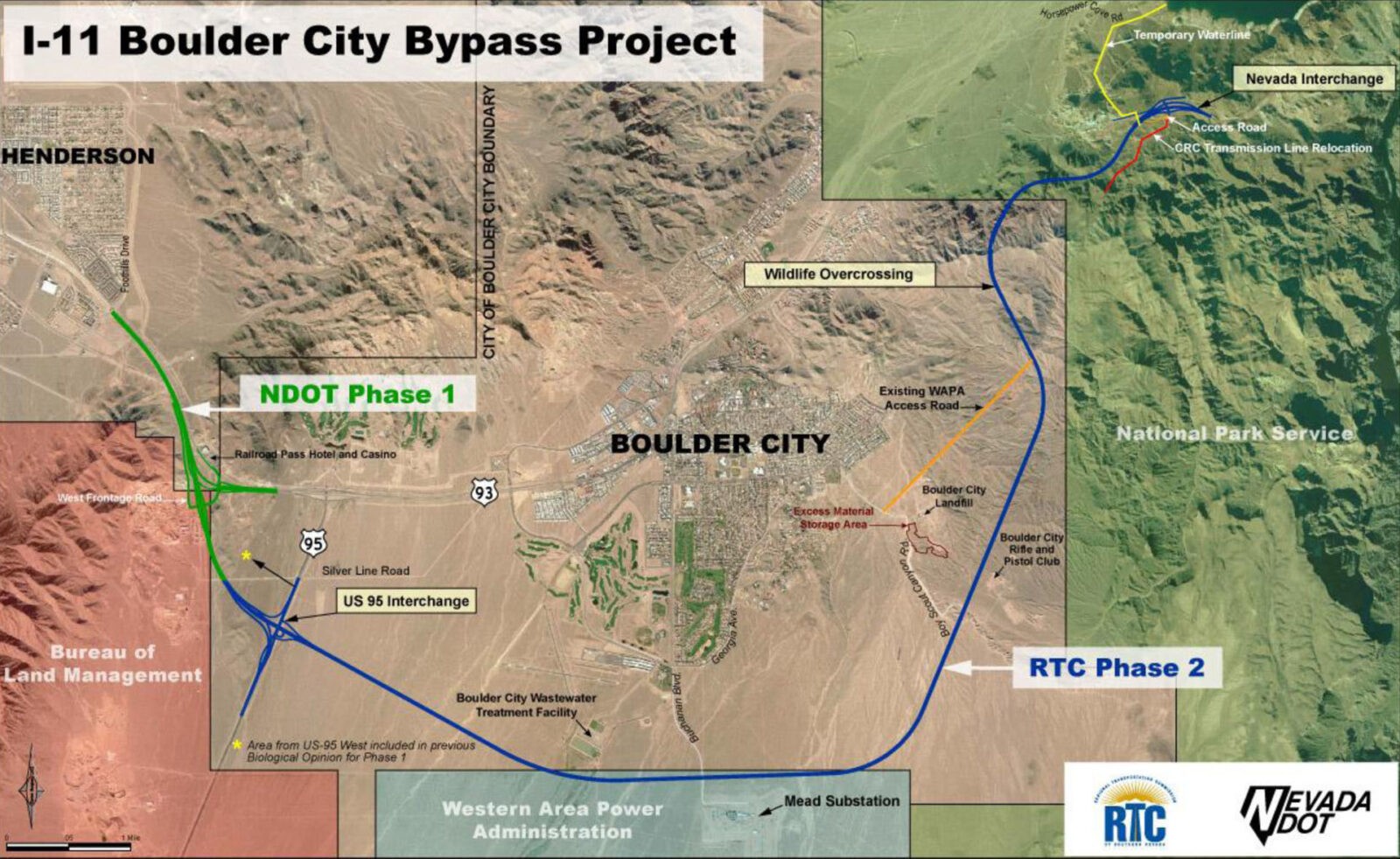 Arizona is presently undertaking a three-year environmental study for its portion of I-11 that would stretch 244 miles from Nogales to Wickenburg and could include rail.
Abby Pittman is the Editor for American Infrastructure magazine. She can be reached at abby@penpubinc.com